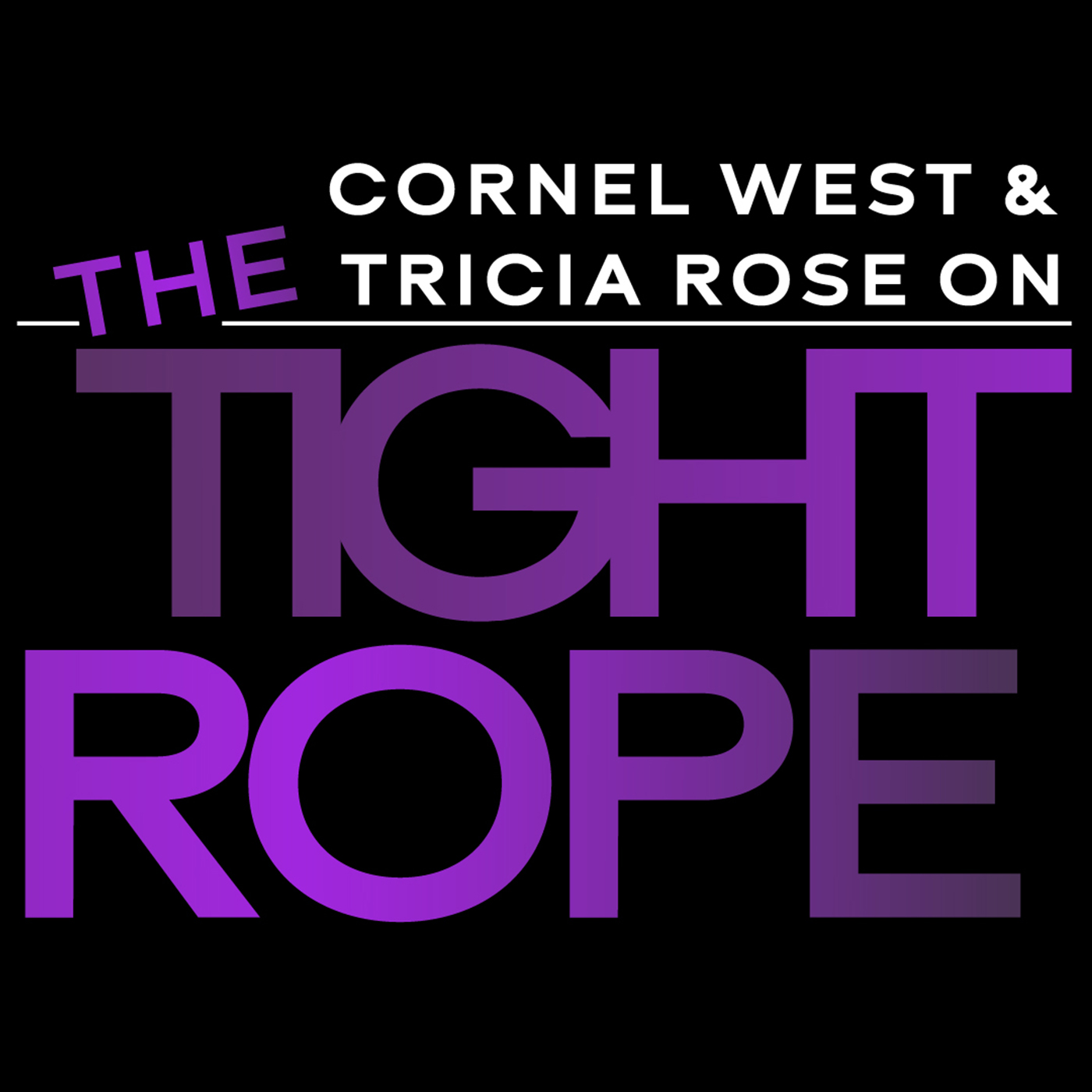 Episode Summary
On this episode of The Tight Rope, Professor Noam Chomsky shares with our hosts, Dr. Cornel West and Professor Tricia Rose, the wisdom that only comes with 91 years of experience. Linguist, social critic, and political activist, Professor Chomsky confronts issues of survival as he speaks on the impacts of the COVID pandemic and the decisions of the Trump administration locally and globally as well as the feasibility and necessity of a New Green Deal and the heroics of everyday, unknown people that truly make the difference. Join us for a reframing of what really matters during this time on this episode of The Tight Rope.  
Cornel West
Dr. Cornel West is Professor of the Practice of Public Philosophy at Harvard University. A prominent democratic intellectual, social critic, and political activist, West also serves as Professor Emeritus at Princeton University. He graduated Magna Cum Laude from Harvard in three years and obtained his M.A. and Ph.D. in Philosophy at Princeton. West has authored 20 books and edited 13. Most known for Race Matters and Democracy Matters, and his memoir, Brother West: Living and Loving Out Loud, West appears frequently on the Bill Maher Show, CNN, C-Span, and Democracy Now. West has appeared in over 25 documentaries and films, including Examined Life, and is the creator of three spoken word albums including Never Forget. West brings his focus on the role of race, gender, and class in American society to The Tight Rope podcast. 
Tricia Rose
Professor Tricia Rose is Director of the Center for the Study of Race and Ethnicity in America at Brown University. She also holds the Chancellor's Professorship of Africana Studies and serves as the Associate Dean of the Faculty for Special Initiatives. A graduate of Yale (B.A.) and Brown University (Ph.D), Rose authored Black Noise: Rap Music and Black Culture in Contemporary America (1994), Longing to Tell: Black Women Talk about Sexuality and Intimacy (2003), and The Hip Hop Wars: What We Talk About When We Talk About Hip Hop and Why It Matters (2008). She also sits on the Boards of the Nathan Cummings Foundation, Color of Change, and Black Girls Rock, Inc. Focusing on issues relating to race in America, mass media, structural inequality, popular culture, gender and sexuality and art and social justice, Rose engages widely in scholarly and popular audience settings, and now also on The Tight Rope podcast.  
Noam Chomsky
Considered the founder of modern linguistics, Professor Noam Chomsky is one of the most influential and critically engaged public intellectuals in the world. He has written more than 100 books, including Syntactic Structures, Language and Mind, Manufacturing Consent: The Political Economy of the Mass Media, and most recently Climate Crisis and the Global Green New Deal. He is Laureate Professor of Linguistics at the University of Arizona and Institute Professor Emeritus at the Massachusetts Institute of Technology (MIT). Professor Chomsky's immense contributions go beyond linguistics into analytic philosophy and cognitive science.
Insight from this episode:
Strategies for sustaining our commitment to intellectual thought during this multilayer catastrophe. 

The two biggest questions that human beings are currently facing and why no one is talking about them. 

Critiques of the internal battles of the DNC and what we need to do if Biden is elected. 

Insights into how capitalistic logic worsened the pandemic.

Connections between religion and justice along with Professor Chomsky's thoughts on the "self-hating Jew," "flatterers of the court," and liberation theology. 
Quotes from the show:
"If you look at history, we've been through very hard times, but a lot has been accomplished. In many ways, it's a much better country, much better world, than it was 60 years ago, a 100 years ago-- not in all respects, but in many respects. And many battles that were fought hard, and won, we can just take for granted and move on."

–Noam Chomsky The Tight Rope Episode #17

"We don't have any choice. You can either say everything's hopeless, I give up-- help ensure the worst will happen. Or you can grasp the opportunities that exist, and they do exist, and maybe you can make it a better world. It's not much of a choice."

–Noam Chomsky The Tight Rope Episode #17

On Trump: "If this malignancy is not removed, we may not survive another four years of this. We may get to irreversible tipping points."

–Noam Chomsky The Tight Rope Episode #17

"This decision [to eliminate regulations on polluting industries] is saying, "I want to kill you." That's what it says. "I don't care about you. I'll increase the pollution that's killing you." And doing it in the midst of a respiratory pandemic, which pollution radically increases the already sharply disparate race, class effect of the pandemic. Right in the middle of this, I'll make it worse for you. Nobody comments on it."

–Noam Chomsky The Tight Rope Episode #17

"[Trump's] carrying out a desperate effort to try to cover up the vicious crimes he's committed against the American people."

–Noam Chomsky The Tight Rope Episode #17

"You can't read the prophets and not be inspired by the eloquent calls for justice, for mercy, and the sharp critiques of the crimes of the powerful, the geopolitical critiques, moral critiques."

–Noam Chomsky The Tight Rope Episode #17

"The ones who bring the message of honesty, integrity, support for people who need it, preferential option for the poor, working for the suffering and the needy, changing our societies so that they are directed to people's just rights and needs instead of for maximizing wealth and profit for a tiny sector, those are the people who are bitterly attacked."

–Noam Chomsky The Tight Rope Episode #17

"You get caught up trying to decide which one of those [political ideologies] is right, and you find out that every group has done both [right and wrong]."

–Tricia Rose The Tight Rope Episode #17

"You wonder if all of this effort to keep us at each other's throats is just to distract us from the fact that everything is being looted while the whole world ends."

–Tricia Rose The Tight Rope Episode #17

"Greed wouldn't be able to run amuck if they weren't able to manipulate the racist sensibilities of folk to turn away from what really matters and to be preoccupied with these matters that allow the powerful to be the gangsters that too often they are."

–Dr. Cornel West The Tight Rope Episode #17

"They're promising to make America great again, while there's not going to be any America left-- not that if was ever great in the first place."

–Tricia Rose The Tight Rope Episode #17
Stay Connected:
Cornel West
Website: www.cornelwest.com
Twitter: @CornelWest
Facebook: Dr. Cornel West
Instagram: @BrotherCornelWest 
Linktree: Cornel West 
Tricia Rose
Website: www.triciarose.com
LinkedIn: Tricia Rose
Twitter: @ProfTriciaRose
Facebook: Tricia Rose
Instagram: @ProfTriciaRose
Youtube: Professor Tricia Rose 
Noam Chomsky
Website: https://chomsky.info 
Facebook: Noam Chomsky
The Tight Rope
Website: www.thetightropepodcast.com 
Instagram: @thetightropepod
Twitter: @thetightropepod
Facebook: The Tight Rope Pod
This episode was produced and managed by Spkerbox Media in collaboration with Podcast Laundry