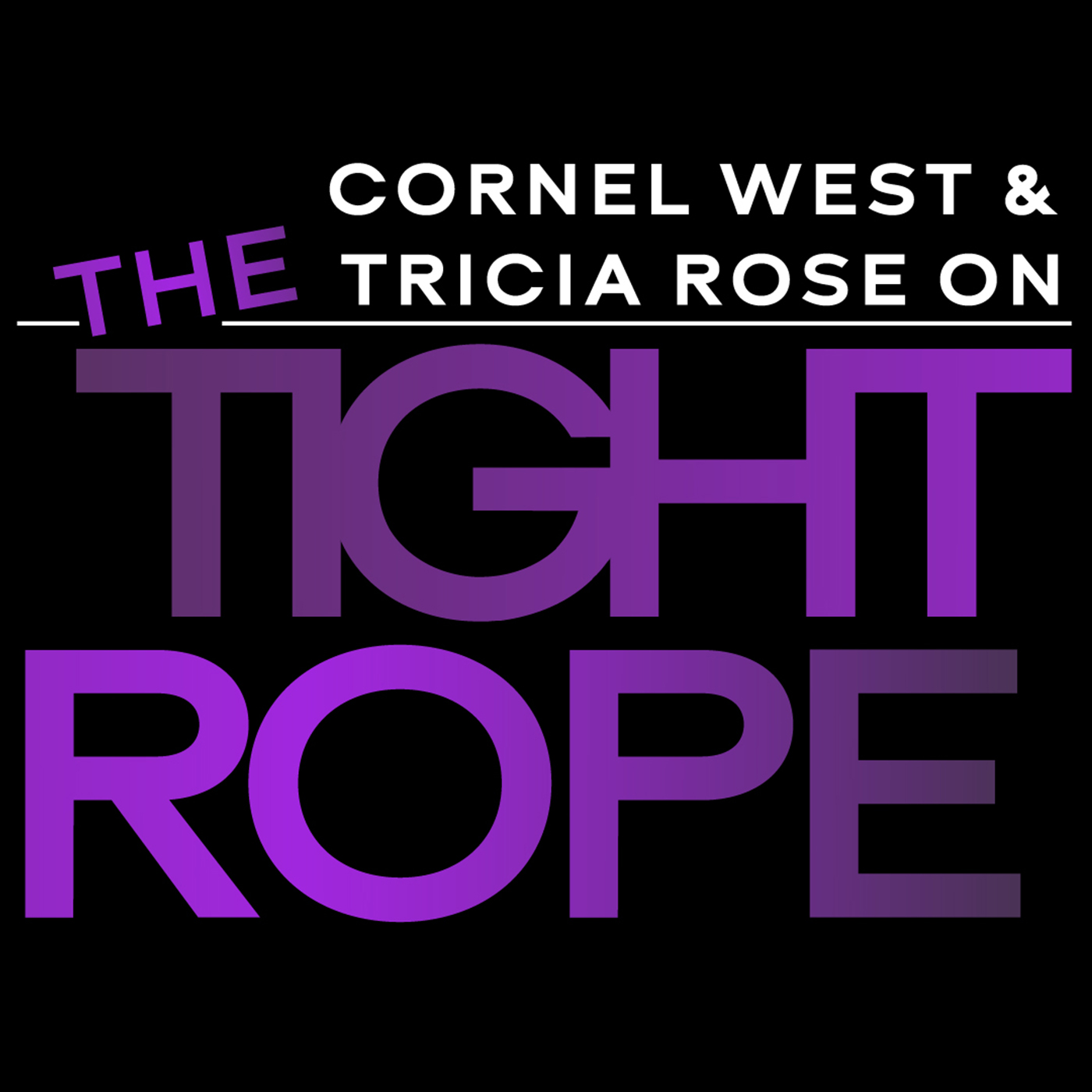 Episode Summary
On this episode of The Tight Rope, Professor Tricia Rose's favorite MC of all time, Rakim, joins her and Dr. Cornel West for a conscious-raising conversation about the past, present, and future of hip hop and the "turning point" that this moment could be. Rakim lets us into his creative process and shows us that no one knows better than him the power of words, especially the words truth and humility. Dr. West and Tricia hold Office Hours to discuss the politics surrounding the whistleblower allegations of forced hysterectomies on ICE detainees on this episode of The Tight Rope.  
Cornel West
Dr. Cornel West is Professor of the Practice of Public Philosophy at Harvard University. A prominent democratic intellectual, social critic, and political activist, West also serves as Professor Emeritus at Princeton University. He graduated Magna Cum Laude from Harvard in three years and obtained his M.A. and Ph.D. in Philosophy at Princeton. West has authored 20 books and edited 13. Most known for Race Matters and Democracy Matters, and his memoir, Brother West: Living and Loving Out Loud, West appears frequently on the Bill Maher Show, CNN, C-Span, and Democracy Now. West has appeared in over 25 documentaries and films, including Examined Life, and is the creator of three spoken word albums including Never Forget. West brings his focus on the role of race, gender, and class in American society to The Tight Rope podcast. 
Tricia Rose
Professor Tricia Rose is Director of the Center for the Study of Race and Ethnicity in America at Brown University. She also holds the Chancellor's Professorship of Africana Studies and serves as the Associate Dean of the Faculty for Special Initiatives. A graduate of Yale (B.A.) and Brown University (Ph.D), Rose authored Black Noise: Rap Music and Black Culture in Contemporary America (1994), Longing to Tell: Black Women Talk about Sexuality and Intimacy (2003), and The Hip Hop Wars: What We Talk About When We Talk About Hip Hop and Why It Matters (2008). She also sits on the Boards of the Nathan Cummings Foundation, Color of Change, and Black Girls Rock, Inc. Focusing on issues relating to race in America, mass media, structural inequality, popular culture, gender and sexuality and art and social justice, Rose engages widely in scholarly and popular audience settings, and now also on The Tight Rope podcast.  
Rakim
Rakim is an American rapper and record producer. One half of golden age hip hop duo Eric B. & Rakim, Rakim is widely regarded as one of the most influential and most skilled MCs of all time. Their album Paid in Full was named the greatest hip hop album of all time by MTV in 2006. Eric B. & Rakim created four albums together, and Rakim produced three solo albums. In 2019, Rakim, hailed for his brilliant artistic style, adding layers, complexity, depth, musicality, and soul to rap, released his memoir Sweat the Technique: Revelations on Creativity from the Lyrical Genius. 
Insight from this episode:
Reflections on the role that music and hip hop have played in Black traditions of survival and spiritual fortitude. 

Strategies for thinking and using words in an aspirational way to maintain hope and positivity.

Details into Rakim's musical influences, such as Coltrane, James Brown, and Frank Sinatra, and the direct impact they had on his hip hop. 

Rakim's thoughts on the return on consciousness in music, "Hip hop 2021," and how the hip hop scene can and should look like moving forward. 

Behind the scenes of the making of

Paid in Full

and writing the title track for

Juice.
Quotes from the show:
"As Black folk, we should never be surprised by evil or paralyzed by despair. We have known every possible catastrophe, every possible calamity. We look unflinchingly at it, be honest and candid about it, try to preserve the integrity of our souls, and keep on moving."

–Dr. Cornel West The Tight Rope Episode #18

"When hip hop came out, I felt like it was there for me. It was the young music for the young generation, and I just felt like everything that I learned prepared me for that."

–Rakim The Tight Rope Episode #18

On Islam: "It taught me how to communicate, it taught me how to express myself, it taught me how to not only translate my feelings, but what I felt the world was feeling. And that's what I thought was more important, to see vicariously through the world's eyes and speak."

–Rakim The Tight Rope Episode #18

"Knowing how deep he was, how creative he was, how mental he was, I said to myself, "What would Coltrane do?" If you're trying to be innovative and take things to the next level, how could you do that? Well, Coltrane played two notes at the same time, so what could you do?"

–Rakim The Tight Rope Episode #18

"Listening to jazz when I was coming up, I didn't know I was learning an important lesson for what I was doing, for what I would be doing. Jazz taught me how to manipulate space and time."

–Rakim The Tight Rope Episode #18

"I always used to call myself an instrument. When I hear music, I would say how can I join in? It's like a jazz band, if they let me get a solo, what would I do? How would I play it?"

–Rakim The Tight Rope Episode #18

"We patterned hip hop off of James Brown, his music, his drums, even the screams and the grunts. Without saying words, he let you know how you felt about the music and it made the listener feel the same way."

–Rakim The Tight Rope Episode #18

"This is the best time to be conscious again with music. This is the best time to tell your story from the world's point of view. We're all impacted from what's going on right now. I'm hoping it's a good time for hip hop. Artists that may have never thought of saying anything conscious or positive are thinking that now. Even if they're just explaining to us if they see what's going on, it's a change for hip hop. I'm hoping that things just going on wake hip hop up a little bit and it gets a little more conscious."

–Rakim The Tight Rope Episode #18

On the golden age of hip hip: "It wasn't about trying to tell people political messages. People like to say it was about political consciousness. No, it was about how to live and survive white supremacy with your spirit intact, with your family, and your people at the front of your mind, and your heart not completely closed to treating each other with dignity."

–Tricia Rose The Tight Rope Episode #18

On COVID-19 pandemic: "I don't think nobody wants to hear about no strip clubs or how much money or how many cars you got. I think the climate is going to change real fast with hip hop because this is a rude awakening."

–Rakim The Tight Rope Episode #18

"When I was young, music was a teacher. We could listen to music and know exactly what's going on in the world."

–Rakim The Tight Rope Episode #18

"I started to pattern my style, and I realized that if I could show me through my work, it would be easy. I figured that would be my advantage. Can't no nobody be me, can't no one think like I'm thinking. No one's going to say exactly what I say if it comes from my heart."

–Rakim The Tight Rope Episode #18

"There's a long tradition of eugenics in the United States, 31 states that had laws that allowed for reproductive violation and injustice, that allowed for sterilization. We know one of the greatest freedom fighters of the 21st century, Fanny Lou Hamer, underwent the same kind of operation without her consent. Same kind of violation without her consent."

–Dr. Cornel West The Tight Rope Episode #18

"If anybody has a question about why people of color don't trust doctors or don't trust medical professionals in general, here's a very clear, recent case of that."

–Tricia Rose The Tight Rope Episode #18

"We have to be vigilant about it because we're just being attacked and assaulted on every conceivable front."

–Dr. Cornel West The Tight Rope Episode #18

"Sexual violence and physical violence against women's reproduction is a hard topic for people to rally around in the same way as other things are because it feels like such an intimate thing, and we've not been trained to see the deeply public, political nature of this kind of action."

–Tricia Rose The Tight Rope Episode #18
Stay Connected:
Cornel West
Website: www.cornelwest.com
Twitter: @CornelWest
Facebook: Dr. Cornel West
Instagram: @BrotherCornelWest 
Linktree: Cornel West 
Tricia Rose
Website: www.triciarose.com
LinkedIn: Tricia Rose
Twitter: @ProfTriciaRose
Facebook: Tricia Rose
Instagram: @ProfTriciaRose
Youtube: Professor Tricia Rose 
Rakim
Website: TheGodRakim.com
Twitter: @RakimGodMC
Facebook: Rakim
Instagram: @TheGodRakim
Youtube: @RakimVEVO
Spotify: Rakim
The Tight Rope
Website: www.thetightropepodcast.com 
Instagram: @thetightropepod
Twitter: @thetightropepod
Facebook: The Tight Rope Pod
This episode was produced and managed by Spkerbox Media in collaboration with Podcast Laundry.